What's the Deal with Client Connect?
PWW Client Connect is a flat fee program that provides clients with unlimited access to the EMS attorneys and consultants of PWW by phone, Zoom or e-mail to answer your everyday questions on issues such as reimbursement, billing, coding, compliance, HR, privacy, liability, documentation or other issues. PWW Client Connect eliminates hourly billing, and the uncertainty in hourly charges like "traditional" law firms.  Client Connect is a great way to establish an ongoing relationship with the National EMS Industry Law Firm and have our professionals on standby whenever you have questions.  Client Connect helps provide cost-effective budgeting certainty through a modest, highly affordable monthly flat fee.
The Program is BIGGER and BETTER than Before - More BENEFITS for You!
Discounted access to PWW webinars and archived recordings
"Always the Early Bird" rates for PWW in-person conferences
Select discounted PWW Media products, books, and videos
Discounts on courses from National Academy of Ambulance Compliance
...And, much more! Click below to read our benefits brochure.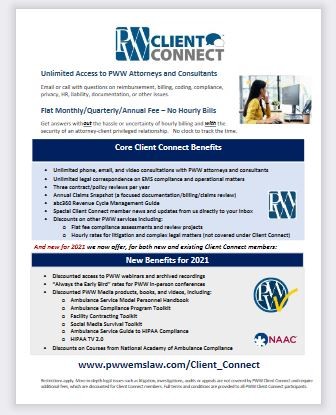 Still Have Questions?...Click below to read our FAQs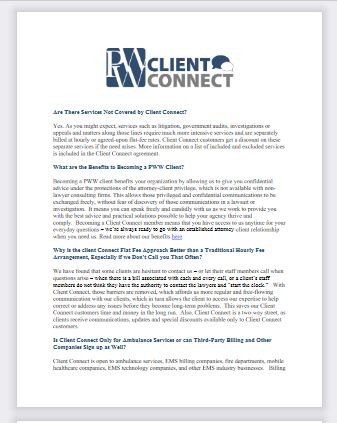 ---
*Restrictions apply. More in-depth legal issues such as litigation, disputes, and large research projects are not covered by PWW Client Connect™ and require additional fees. Detailed terms and conditions will be provided to all PWW Client Connect™ participants.
---